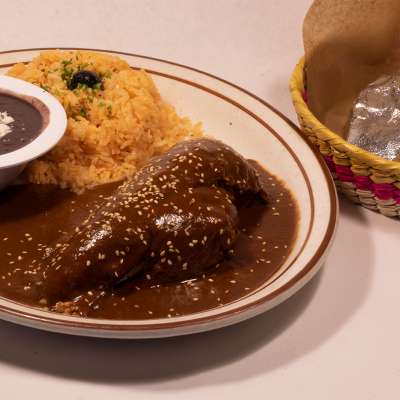 Pollo Con Mole
$21.99
---
Chicken breast covered with our special mole sauce and garnished with sesame seeds. served with rice, black beans and two homemade corn tortillas..
ORDER ONLINE
0 customers Pollo Con Mole! Leave a review to let us know what you think.
You may also like
---
Your choice of chicken, beef or carnitas, with rice and pinto beans, all wrapped in a flour tortilla, covered with tomato sauce and melted cheese. sour cream, guacamole, pico de gallo and a black olive on top. served with salad..
Sizzling beef with onions, bell peppers and tomatoes. served with rice and pinto beans garnished with cheese, with two flour tortillas..
three homemade sopes, each with a different topping chicken, chorizo mexican sausage and picadillo sweet ground beef. beans are garnished with mexican cheese..